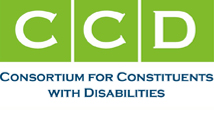 Please visit our web site often to stay informed on national issues and events affecting the disability community.

The Consortium for Citizens with Disabilities
820 First Street, NE, Ste. 740
Washington, DC 20002
(202) 567-3516 phone
(202) 408-9520 fax
Email: Info@c-c-d.org

| | |
| --- | --- |
| TASK FORCES | MENT AND TRAINING |
Mission
The CCD Employment and Training Task Force works on issues relevant to the employment of people with disabilities, particularly issues related to the programs and projects funded under the Rehabilitation Act of 1973, as amended.
The Task Force has also been working with on recent proposals regarding the Social Security Administration's efforts to facilitate the employment of individuals receiving Social Security benefits, and the employment and training programs administered by the Department of Labor.
CCD Employment Task Force Statement of Principles
Co-chairs
Julie J. Christensen, PhD, LMSW
Association of People Supporting EmploymentFirst (APSE)
301-279-0060 (office)
julie@apse.org

Alicia Epstein
SourceAmerica
(703) 584-3987 (office)
aepstein@sourceamerica.org

Phillip Pauli
Respectability
(202) 517-6272 phone
(240) 482-8218 fax
philipp@respectability.org

Susan Prokop
Paralyzed Veterans of America (PVA)
(202) 416-7707 phone
susanp@pva.org

Dahlia Shaewitz
Institute for Educational Leadership
(202) 822-8405 phone
shaewitzd@iel.org
Update

Throughout the quarter, the Employment and Training Task force continued to monitor Hill action on the Workforce Incentives Act and the Rehabilitation Act and followed up with the Office of Personnel Management on the status of the final regulations for Excepted Service for People with Disabilities in federal employment.
Statement of Principles on Employment of People with Disabilities

Webinar
National Disability Employment Awareness (NDEAM) Panel - 10/28/21
Recording
Transcript
Employment and Training Task Force
Employment and Training Task Force 2021 Annual Report


(January 10, 2022)

- Download [

PDF

]
Employment and Training Task Force
CCD ETF RIN 3037-AA16 Letter
In this letter, we submit the following comments in response to the notice of proposed rulemaking (NPRM) promulgated on October 12, 2021 in the Federal Register. The proposed rule (RIN 3037–AA16) would require that each nonprofit agency ("NPA") that seeks to qualify or maintain its qualifications under the AbilityOne Program would have to certify that it will not pay subminimum wages using special wage certificates authorized under section 14(c) of the Fair Labor Standards Act of 1938 to employees on all contracts or subcontracts awarded, extended or renewed under the program.


(December 10, 2021)

- Download [

PDF

]
Employment and Training Task Force
Employment and Training Task Force Letter to Pres. Biden Recommending Disability Inclusive Language for Jobs Plan
This past week the nation marked the 31st anniversary of the Americans with Disabilities Act. In October, we will celebrate National Disability Employment Awareness Month whose theme is "America's Recovery: Powered by Inclusion." Every year, policymakers and public officials speak glowingly of the contributions that people with disabilities bring to our nation's economy and workforce.


(August 2, 2021)

- Download [

PDF

]
Employment and Training Task Force
Employment and Training Task Force Letter to Senate Leadership Recommending Disability Inclusive Language for Jobs Plan
This past week the nation marked the 31st anniversary of the Americans with Disabilities Act. In October, we will celebrate National Disability Employment Awareness Month whose theme is "America's Recovery: Powered by Inclusion." Every year, policymakers and public officials speak glowingly of the contributions that people with disabilities bring to our nation's economy and workforce.


(August 2, 2021)

- Download [

PDF

]
Employment and Training Task Force
Employment and Training Task Force Letter to House Leadership Recommending Disability Inclusive Language for Jobs Plan
This past week the nation marked the 31st anniversary of the Americans with Disabilities Act. In October, we will celebrate National Disability Employment Awareness Month whose theme is "America's Recovery: Powered by Inclusion." Every year, policymakers and public officials speak glowingly of the contributions that people with disabilities bring to our nation's economy and workforce.


(August 2, 2021)

- Download [

PDF

]
Employment and Training Task Force
Employment and Training Task Force Comments to OMB RFI on Access and Equity
On January 20, 2021, President Joseph R. Biden issued Executive Order 13985 calling on executive departments and agencies (agencies) to "recognize and work to redress inequities in their policies and programs that serve as barriers to equal opportunity."


(July 6, 2021)

- Download [

PDF

]
Employment and Training Task Force
Employment and Training Task Force letter to Congress on employment of people with disabilities in American Jobs Plan and American Families Plan
The undersigned members of the Consortium for Citizens with Disabilities (CCD) Employment and Training Task Force write to you concerning the consequential legislation that is now under development by Congress to implement the American Jobs Plan and American Families Plan articulated by President Joseph R. Biden. CCD is a coalition of national rights, advocacy, consumer, provider, and self-advocates organizations representing the nation's 61 million people with disabilities.


(May 25, 2021)

- Download [

PDF

]
Employment and Training Task Force
CCD Ideas and Recommendations for OFCCP to Improve Outcomes for Individuals with Disabilities
Thank you for including representatives of the Consortium for Citizens with Disabilities (CCD) Employment and Training Task Force in a meeting on March 19, 2021, to discuss the efforts of your office to improve federal contractor compliance in recruitment and hiring of individuals with disabilities.


(May 7, 2021)

- Download [

PDF

]
Employment and Training Task Force
CCD Equity Dialogue Contributions
Fundamentally, using good data is necessary to drive for improved and more equitable outcomes for the many underrepresented communities and intersectional identities contained within the broader disability community. Good data must capture not only disability status, but also disaggregated that data by race. Our nation, our government, and our policies will never advance an equity agenda, unless decision makers can clearly see the disproportionate impact of their choices.


(April 30, 2021)

- Download [

PDF

]
Employment and Training Task Force
Employment and Training Task Force Comments on Draft Home and Community Based Services Access
The Consortium for Citizens with Disabilities (CCD) is the largest coalition of national organizations working together to advocate for federal public policy that ensures the self-determination, independence, empowerment, integration, and inclusion of children and adults with disabilities in all aspects of society. The CCD Employment and Training Task Force wishes to acknowledge the many years of intensive efforts expended by many advocates to press for rebalancing the Medicaid program away from prioritizing institutionalization over community integration.


(April 26, 2021)

- Download [

PDF

]
Employment and Training Task Force
Employment and Training Task Force Response to HELP Committee on Workforce Programs
The Employment and Training Task Force of the Consortium for Citizens with Disabilities (CCD) appreciates the opportunity to submit comments regarding the specific needs of people with disabilities as you explore ways to update and expand workforce training programs.


(April 9, 2021)

- Download [

PDF

]
Employment and Training Task Force
CCD Employment and Training Task Force Support Letter to Senate for National Apprenticeship Act, HR 447
The undersigned members of the Consortium for Citizens with Disabilities (CCD) Employment and Training Task Force are pleased to support H.R. 447, the National Apprenticeship Act which passed the House on February 5, 2021. We urge you to support this measure and ensure its passage by the Senate at the earliest opportunity. CCD is a coalition of more than 100 national disability rights, advocacy, consumer, provider and self-advocates organizations representing the more than 61 million Americans with disabilities. The Employment and Training Task Force concerns itself with federal employment programs and policies affecting economic self-sufficiency and opportunity for people with disabilities.


(March 18, 2021)

- Download [

PDF

]
Employment and Training Task Force
CCD White House Personnel Letter
The undersigned co-chairs of the Consortium for Citizens with Disabilities (CCD) Employment and Training Task Force are writing to you today to reiterate the critical importance of prioritizing the placement of proven professionals with disabilities and those with lived experience, especially those from intersectional identities, into positions of leadership throughout your Administration.


(March 4, 2021)

- Download [

PDF

]
Employment and Training Task Force
Annual Report - Employment and Training Task Force


(January 8, 2021)

- Download [

PDF

]