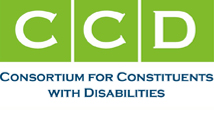 Please visit our web site often to stay informed on national issues and events affecting the disability community.

The Consortium for Citizens with Disabilities
1825 K Street, NW, Ste. 1200
Washington, DC 20006
(202) 783-2229 phone
(202) 534-3731 fax
Email: Info@c-c-d.org

| | |
| --- | --- |
| TASK FORCES | EMPLOYMENT AND TRAINING |
Mission
The CCD Employment and Training Task Force works on issues relevant to the employment of people with disabilities, particularly issues related to the programs and projects funded under the Rehabilitation Act of 1973, as amended.
The Task Force has also been working with on recent proposals regarding the Social Security Administration's efforts to facilitate the employment of individuals receiving Social Security benefits, and the employment and training programs administered by the Department of Labor.
CCD Employment Task Force Statement of Principles
Co-chairs
Kelly Buckland
National Council on Independent Living (NCIL)
1710 Rhode Island Ave., NW, 5th Floor
Washington, DC 20036
(202) 207-0334 (office)
(202) 207-0341 (fax)
kelly@ncil.org

Alicia Epstein
SourceAmerica
8401 Old Courthouse Road
Vienna, VA 22182
(571) 571-226-4660 (office)
(571) 288-9146 (fax)
aepstein@nish.org

Susan Goodman
National Down Syndrome Congress
2107 Dumfries Terrace
Olney, MD 20832
(301) 570-8892 (office)
(301) 570-7022 (fax)
susan@ndsccenter.org

Susan Prokop
Paralyzed Veterans of America (PVA)
Phone: (202) 416-7707
Fax: (202) 416-7706
susanp@pva.org

Tony Stephens
American Council for the Blind
Phone: (202) 467-5081
Fax: (703) 465-5085
astephens@acb.org
Update

Throughout the quarter, the Employment and Training Task force continued to monitor Hill action on the Workforce Incentives Act and the Rehabilitation Act and followed up with the Office of Personnel Management on the status of the final regulations for Excepted Service for People with Disabilities in federal employment.
Statement of Principles on Employment of People with Disabilities

Employment and Training Task Force
CCD-Employment-and-Training-Taks-Force-Report-2016


(January 10, 2017)

- Download [

PDF

]
Employment and Training Task Force
Support letter for Transition to Independence Act, HR 5903 - McMorris Rodgers
The undersigned members of the Consortium for Citizens with Disabilities (CCD) Employment and Training Task Force commend you for introducing the Transition to Independence Act, HR 5903.


(September 28, 2016)

- Download [

PDF

]
Employment and Training Task Force
Support letter for Transition to Independence Act, HR 5903 - Van-Hollen
The undersigned members of the Consortium for Citizens with Disabilities (CCD) Employment and Training Task Force commend you for introducing the Transition to Independence Act, HR 5903.


(September 28, 2016)

- Download [

PDF

]
Employment and Training Task Force
CCD Concerned About NDAA Langauge on VEVRAA and Section 503
The undersigned members of the Consortium for Citizens with Disabilities (CCD) are writing to express our concern with provisions contained within both the U.S. House and U.S. Senate versions of the fiscal year 2017 National Defense Authorization Act (NDAA) that would weaken important nondiscrimination and affirmative hiring provisions intended for people with disabilities and veterans, including those with service-connected disabilities.


(July 26, 2016)

- Download [

PDF

]
Employment and Training Task Force
CCD Social Security and Employment and Training Task Forces UWA and EXR NPRM
The undersigned members of the Consortium for Citizens with Disabilities (CCD) Social Security and Employment and Training Task Forces are pleased to submit the following comments in support of the notice of proposed rulemaking published on May 11, 2016.


(July 11, 2016)

- Download [

PDF

]
Employment and Training Task Force
The Honorable Richard Blumenthal amendment support letter
Employment and Training, we write in support of your amendment (#4255) to the fiscal year 2017 National Defense Authorization Act (NDAA) to ensure that organizations and businesses who want to do business with the federal government understand and comply with long-standing laws that protect individuals with disabilities, veterans and others from employment discrimination.


(June 9, 2016)

- Download [

PDF

]
Employment and Training Task Force
Social Security Administration, Ticket to Work, Advance Notice of Proposed Rulemaking, Feb. 10, 2016
On behalf of the CCD Employment and Training Task force and Social Security Task Force, we offer the following observations in response to the Advance Notice of Proposed Rulemaking concerning the Ticket to Work Program issued on February 10, 2016. CCD is a coalition of national disability rights, advocacy, consumer and provider organizations representing this nation's 57 million Americans with disabilities.


(April 8, 2016)

- Download [

PDF

]
Employment and Training Task Force
EEOC NPRM on Section 501
The undersigned members of the Consortium for Citizens with Disabilities (CCD) Rights, Employment and Training, and Veterans and Military Families Task Forces submit these comments in response to the above-captioned proposed rule implementing Section 501 of the Rehabilitation Act.


(February 24, 2016)

- Download [

PDF

]
Employment and Training Task Force
CCD Employment and Training Task Force Sign On Policy
It is the policy of the Employment and Training Task Force (ETTF) to express its policy positions through the use of sign-ons for letters, comments, statements for the record, and testimony when possible, feasible and desirable.


(February 11, 2016)

- Download [

PDF

]
Employment and Training Task Force
CCD Comments to WIOA Section 188 NPRM
On behalf of the Consortium for Citizens with Disabilities Employment and Training and Rights Task Forces, we submit the following comments concerning implementation of Section 188 of the Workforce Innovation and Opportunity Act (WIOA) as outlined in the proposed rule issued January 26, 2016.


(January 26, 2016)

- Download [

PDF

]
Employment and Training Task Force
CCD comments on the NPRM on claims procedures for disability insurance under the Employee Retirement Income Security Act of 1974 filed on 1-19-2016
These comments are submitted on behalf of the undersigned members of the Consortium for Citizens with Disabilities (CCD) . The CCD is a working coalition of national consumer, advocacy, provider, and professional organizations working toget her wit h and on behalf of the approximately 57 million children and adults with disabilities and their families living in the United States.


(January 20, 2016)
Employment and Training Task Force
CCD ETTF Comments DOL Apprenticeship Rule
On behalf of the Consortium for Citizens with Disabilities Employment and Training Task Force, we express our strong support for the notice of proposed rulemaking (NPRM) issued on November 6, 2015 to update the equal opportunity regulations that implement the National Apprenticeship Act.


(January 19, 2016)

- Download [

PDF

]
Employment and Training Task Force
CCD Employment Task Force Annual Report 2015


(January 7, 2016)

- Download [

PDF

]